meta_narratives catalogue for ISEA2014
"meta_narratives" curates artists who re-interpret the manner in which stories are told.
Storytelling with images may be our first record of narratives, such as sand drawings and rock carvings in the western desert tradition through to interactive narratives being produced today. The artists are presenting large tales and small, relying on the specifics of the locations from which the stories are sourced. The stories are site-specific (the moon, a small town off the coast of South Eastern Australia, two islands off Arnhem Land, Eastern European sites and the Arab states). "meta-narratives" presents contemporary, frequently interrupted, reception of texts and histories as explored by artists who find new modes of presenting these stories again to us.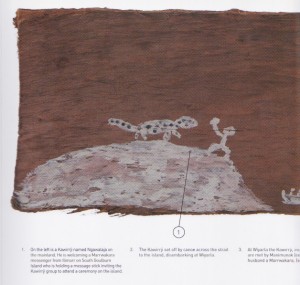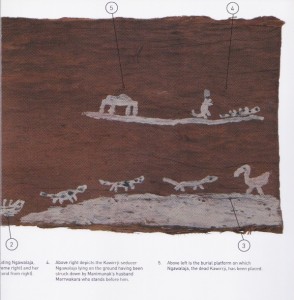 The exhibition includes an animation based on this bark by John Gwadbu,1964, The Marrwakara Story, Mawng Language, Goulburn Island, Western Arnhem Land, NT.Ochre on stringybark. RM and CH Berndt collection, 1964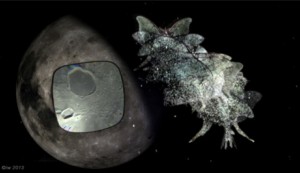 Clea T.Waite and Lauren Fenton, Book of Luna, 2013, interactive media,  display objects http://www.clea-t.de/Book_of_Luna/Book_of_Luna.html
The Book of Luna, a transmedia Meta-Book will be a physical, illuminated manuscript merging sculpture and film and literature. It is a tactile poem in a cinema of pages integrating text and paper with embedded media technology. Its subject is a lyrical history of humanity's empirical and allegorical relationship with the Moon.
Clea T.Waite is a research artist- scholar and experimental filmmaker whose motion pictures balance unconventional aesthetic exploration with innovative realisation.  Lauren Fenton is an emerging interactive artist and Ph.D. candidate in Media Arts and Practice as the University of Southern California.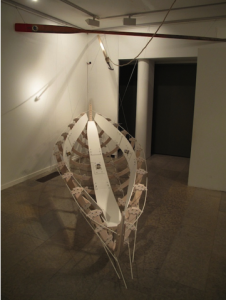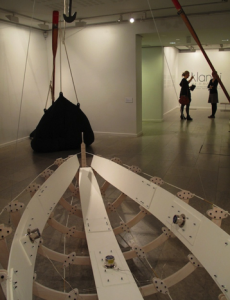 Nigel Helyer, Law of the Tongue, 2010, 8 channel sound sculpture http://www.sonicobjects.com/index.php/projects/more/law_of_the_tongue/
The Law of the Tongue ~ Symbiosis and Betrayal. For Millennia, Killer Whales (Orcinus Orca) have hunted Baleen Whales along the coasts of Australia, driving them into shallow bays from which they cannot escape. Likewise for Millennia the Yuni people of Twofold Bay near Eden (New South Wales) have formed a spiritual bond with the Orcas (Beowas to the Yuni) whom they considered to be reincarnations of their tribal ancestors and whom they sang; believing that the Orcas responded by intentionally driving Whales to strand in the Bay as a food offering to their tribal members.
Nigel Helyer (a.k.a. DrSonique) is an independent sculptor and sound-artist.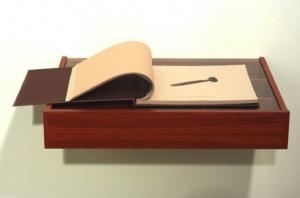 Bronia Iwanczak, Timebinder, 2004, Artist book – Archival inkjet on Archival rag paper
Bronia Iwanczak, Timebinder, 2010, DVD – Digital book – Interactive
Programming and interface design: by Gary Warner
Timebinder is a book and interactive documenting the psychometric responses of six clairvoyants to fragments collected from a variety of Polish wartime stories including Hitlers Lair, Lambsdorf (the labour camp that her father was interned in) and Auschwitz-Birkenau. The work sits at the intersection between subjectivity and history; how we come to embody, if at all, and understand the nature of events that exceed rational understanding.
Bronia Iwanczak is a visual artist whose mixed media practice encompasses film, photography and sculptural installation.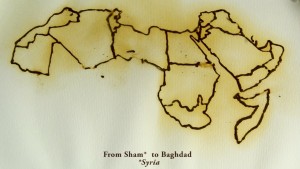 Rusaila Bazlamit (Aus), 2013, My Homelands [ﺃﻭﻃﺎﻧﻲ],single channel HDV
www.lab-tajribi.com
This video art uses the tension between an image of the Arab countries map deconstructing whilst a famous Arab nationalistic song is being hummed. This tension provokes the viewer to look critically and think about Arabism, Pan-Arabism, Arab Spring, Nationalism, and Identity.
Rusaila Bazlamit is a digital designer, visual communicator, lecturer of Design, art curator and an experimental artist.